Factory Monitoring: Part 2
Project Approach
Discussions with the Sherwin Williams team resulted in a plan that would require six project phases.
Determine a measurement method and select commercially available hardware components.
Purchase sensors and data recorder components including packaging hardware.
Assemble the components and configure the software.
Commission the hardware at the client's Columbus, Ohio facility.
Review and validate the initial measurement data for one to two weeks.
Make programing modifications based on initial measurement data.
Measurement Method & Hardware Selection
Several measurement methods were investigated. The least intrusive and quickest to install was 6 non-contact laser displacement sensors. This sensor could be installed with minimal effort and would not require modifications to the media wheel. The electronics to interface with the sensors would require an easy to setup interface with flexibility.
Due to the strengths of the CatmanEasy software the HBM QuantumX product line was chosen. The electronics would be mounted in a steel industrial wall enclosure.  A 17" touchscreen panel was selected as the user interface device. The hardware items are listed below.
HBM CX22B data recorder, software, and accessories
HBM MX1601B sensor interface module
6 Acuity AR200 laser displacement sensors
Power supply for lasers
Touchscreen LCD interface panel
Wall mount enclosure for the components
Wire, cable and other miscellaneous hardware
Hardware Assembly & Installation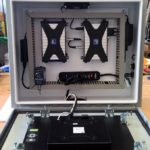 The electronic signal conditioning hardware and supporting equipment was installed into the enclosure. Mounting plates were designed and fabricated for attachment of the 6 sensors to the wheel house structure.
The VOC concentrator is located in an outdoor facility with a dedicated control shed. An enclosure containing all electronic components was mounted to the inside wall of the control shed with conduit run to the media wheel house. The VOC concentrator was taken out of service for a period of six hours. During that time the sensor assemblies were fastened to the horizontal support beams.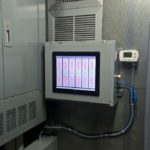 Sherwin-Williams was responsible for the installation of a wiring conduit for routing the signal cables and the wall mounting of the electronics enclosure. Once completed an Internet connection will provide maintenance personnel with remote visual access to the equipment from various locations in the plant. This feature has yet to be implemented, pending assignment of an IP address from the Sherwin Williams IT department.