Railcar & Locomotive Testing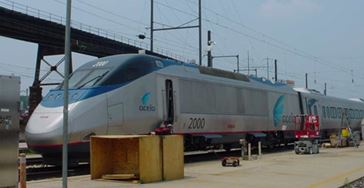 The well-known fuel efficiency of rail transport and the demand for expanded passenger service, including high-speed rail between major metropolitan and industrial centers, has stimulated an effort to rapidly improve capacity in our national rail network. In the process of ramping up to meet this demand the industry, including rail OEMs and their suppliers, is facing tough economic conditions as well as a laundry list of structural and performance problems resulting from a neglected infrastructure.
6D has the staff, experience, and equipment to assist both OEMs and suppliers in diagnosing problems in their products and improving their performance in a timely and economical manner.
Typical services include:
​Mechanical testing of components and subsystems
Vehicle testing and troubleshooting
Data acquisition and analysis services to support acceptance testing
Ride quality evaluations
Vehicle dynamics analysis
Track and vehicle interactions/track upgrade
FEA analysis for validation and problem solution

Suspension Component Study on High-Speed Locomotive
Acted as primary on-site testing team, responsible for installing strain gages, accelerometers, linear position sensors, and GPS receivers; acquiring data during high-speed operating events; validating and translating all recorded data.
Structural Validation of Engine/Generator Locomotive Installation
Performed dynamic finite element and inertial loading analysis to validate the structural system supporting the engine and generator in a locomotive; compared results and improved structure to meet design criteria; where required, performed modal testing to validate finite element models.
Long-Term Unattended Ride Quality Assessment
Helped a large OEM locomotive supplier develop long duration unattended testing capabilities; packaged eDAQ data recorder for rapid deployment; test system included accelerometers and signal recording devices for GPS and control cabinet voltages; test monitoring and data transfer conducted via cellular internet technology.
Suspension Component Failures on Light Rail Vehicle
As primary on-site testing team, installed strain gages, accelerometers, displacement sensors and GPS receiver; performed live data acquisition using eDAQ over live routes during daily operations; validated data on-site; assisted in post-testing analysis and component redesign.
Suspension Dynamics Testing on Urban Light Rail Vehicles
Responsible for all on-site testing activities in investigation of suspension dynamics behavior on light rail vehicles to determine effects of vehicle speed; installed accelerometers, displacement sensors, and GPS receiver; performed test event data acquisition using eDAQ data recorder; validated data on-site and processed data for FRA RIde Quality.
OEM Locomotive Design Validation
Testing and data analysis partner of various equipment suppliers to major municipal transit authority; assisted OEM suppliers with required pre-delivery acceptance test programs; developed test plan; participated in all aspects of test programs including on-site testing during witness acceptance, analysis of data, and publishing of final results.