Analysis
On the drawing board or in the field,
6D provides answers:
Will the new design withstand the environment and conditions for which it is intended?
Where will operating loads and forces have the biggest on impact the CAD model?
What was the reason for the cracked loader axle?
Why are the cooling fan blades failing prematurely?

Testing & Analysis: A Solution-Oriented Approach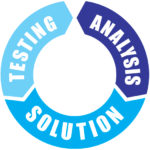 From early design validation through in-service equipment troubleshooting, 6D puts your data to work. We complement our expert testing services with practical application of Finite Element Analysis (FEA) for fast and accurate results.  6D analysis engineers cut through the science of analysis to deliver answers quickly and accurately; not overly-detailed reports.  
6D analysts predict structural and thermal behavior for systems and complex assemblies using a variety of FEA technologies including:
Static Stress
Dynamic Modes
Forced Response
Transient Analysis
Durability/Fatigue
Seismic Analysis
Bolted Joint Analysis
Welded Joint Analysis per AWS

Design Validation
FEA is a key to today's accelerated product development cycles.  6D analysis services help measure and predict product behavior in the early upstream stages of product development while addressing a wide range of component/system/product challenges.
Troubleshooting
When key equipment fails you need answers and you need them yesterday.  6D employs FEA to quickly and accurately identify the root cause of a problem and then engineer and substantiate the solution.