Testing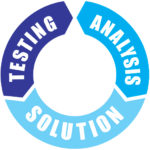 Any Time – Any Where.  6D offers a wide range of expert data collection and testing services.

Loads & Operating Environment Measurements
Our team will identify and capture the important loads a product sustains, a single channel or a hundred. We provide real-world data for better engineering decision making.
Structural Dynamics Assessment
6D will characterize a structure's dynamic behavior for vibration problem solution/validation using both experimental and Finite Element Analysis (FEA) technologies.
Unattended Testing
We will work to gather long-term duty cycle information and capture candid customer usage while at the same time reducing testing program costs.
Customer Usage Profiling
We will provide you with a window into how customers actually use or abuse your product. Data can be collected in its intended setting or customer clinics to acquire the information needed to support project planning.
Durability Assessment
6D engineers will evaluate a product's ability to withstand use, assessing risk of production, identifying most-damaging events, comparing design fixes using both experimental and Finite Element Analysis (FEA) technologies.
Structural Testing / Lab Simulation
We apply real-world design loads and measure responses via laboratory rig testing supported with Finite Element Analysis (FEA) to validate the structural integrity of your component or system. The result: Better design decisions through a more accurate representation of the model.